DeekCiti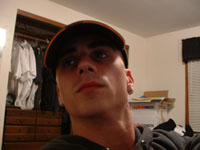 Deek
Waukesha, Wisconsin



ICQ #253685760
MSN Name DeekCiti@hotmail.com
Yahoo! Name DeekCiti
AIM Name DeekCiti

I was born on Wednesday, June 04, 1980 which makes me a 38 year old Gemini.
I am a male with Brown hair and Brown eyes.


I joined the EDA mailing list in August, 2001
---
My Jewel Story:
Well actually my connection to her came to me when I had done something that wasn't so good. (I broke into a car, and the cd single "Who Will Save Your Soul", was now in my hands.) That wasn't my intention, but it was something I had stolen, back when that was a single on the charts. There has been Karma, a very very serious kind following me ever since. I see the flipside now and understand it more to depth. I heard her name but I never just listened to what she had to say and here I am. Can't go a day without wondering what she might be up to at this particular moment. And much grateful for her voice, giving me the strength for having my own voice. I don't always do the right thing, but that day changed me. She had always been there for me, sometimes in more ways than friends ever were.
Comments:
All I must say is that she has taught me so much in the past years but what stands out the most is when she told me that... I must listen to the voice inside my own self, following it, and listening, never closing my ear to such beauty. If you want to write me or anything... send me an E-mail to afallbreeze@hotmail.com

I love meeting new people~ I'll be waiting : )
This page has been viewed 544 times since updated Saturday, June 04, 2005.
---
---