Cactus Angel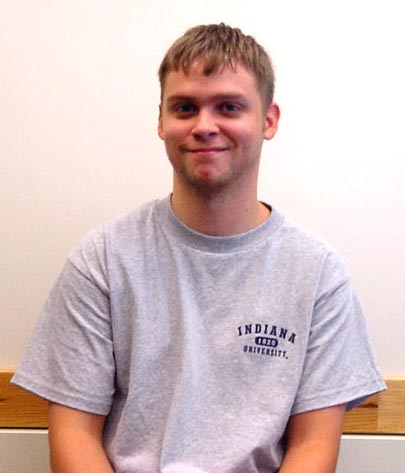 Tom Browning
Indianapolis, IN, USA




MSN Name tippasaurus

I was born on Monday, October 01, 1979 which makes me a 39 year old Libra.
I am a male with Brown hair and Brown eyes.


I joined the EDA mailing list in December, 1998
---
My Jewel Story:
well glad you asked (this is long case you didn't already know), I like jewel so much because she has a lot of musical talent. But you probably want a better reason than that huh well, lemme give you a chronology of my interest in jewel. Back in 95, I guess that's when 'pieces of you' got really big, they played 'who will save you soul' a lot on mtv, and like a lot of the songs they played at the time, she came off as another one of those lilith chicks that would be here today, gone tomorrow, at least that was my take on it. The song was good, but so were those one/two hit wonders paula cole and lisa loebone good song is not enough for me to buy an entire cd's worth of material from this person. But then 'you were meant for me' came out and I was pretty much blown away by that song and the later hit 'foolish games' (which I would later appreciate a lot more) At that time I kinda was unsure of buying a female artist, don't ask me why, probably cuz I thought I would get ridiculed by people (for some reason jewel is the butt of a lot of jokes)...so for now I kinda just forgot about her.later around '98, jewel's second album came out (entitled 'spirit')her first single from it was 'hands'...which again blew me awayand finally I bought her cd, almost five years after she peaked my interest. I listened to the entire cd a lot of times and it seemed to put me in a good mood most of the timewhich usually I use music to vent about stuff, not really to put me in a better mood. So I instantly bought 'pieces of you' after that. At first I didn't like it as much, just cuz the songs seemed so unpolished and raw (and until then I only really liked complex, epic songs like 'november rain')but later, I grew to like 'pieces of you' even better than 'spirit'...the simplicity of the songs on 'pieces of you' were what made the cd so great! No way! But anyway, I still listen to 'spirit' if I'm feelin' depressed about stuff, that cd always lifts me right up, but the 'pieces' jewel is the one I prefer. The jewel w/ just her guitar and that's it, no band or anything. After awhile I began surfin' the net for stuff about jewel, to find out about her and stuff (cuz I like to know about the person who wrote this music, you know?) and I found the 'pieces of jewel' website which advertised a jewel emailing list. I immediately joined and found that they called this little emailing list the 'everyday angels' mailing list. This is taken from a quote from one of jewel's songs where she states 'we are everyday angels' and I guess they just borrowed it. But as far as I can tell the everyday angels is the closest thing to a fan club jewel has.she even mentioned us on vh1's storytellers, she even says "whenever I get depressed, I'll get a letter from a fan or an EDA (which is us, the everyday angels!)" I know, I know that's probably not exactly what she said but that was the gist of what she saidlater I found out that you can get unreleased jewel songs from other EDA's in the form of 'angelfood' (which is basically nonprofit bootleg trading)I got some tapes (and I'm grateful to those that gave me those tapes for basically nothing) and they were just great! They were much like 'pieces of you' in the simplicity of the songs, except I was surprised by the versatility jewel displayed live that she didn't show in her albums. In the bootlegs she did blues, country, and rock songsmost of her albums were basically folk/rock type songsso I was pleasantly surprised. But basically, that about ends the chronology, right now I'm just waiting for another album from her. So yeah, I also like jewel cuz I feel she sends a very positive message as opposed to most of the other stuff I listen to, so it is a very good balance in the music I listen to some stuff that is heavy and loud, some stuff quieter and nicer. I'm just now tryin' to get into other acoustic artists such as Neil Young and Bob Dylan, but for now I'm content w/ jewel.



Comments:
...yep, been an EDA for awhile and didn't know about this...pretty cool!
This page has been viewed 692 times since updated Thursday, March 28, 2002.
---
---