Latin Angel (aka The Ecuadorian Angel)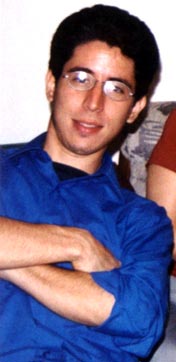 Pablo Andrés
Guayaquil / Ecuador





I was born on Sunday, December 11, 1977 which makes me Sagittarius.
I am a male with Brown hair and Brown eyes.


I joined the EDA mailing list in February, 1997
---
My Jewel Story:
It was 1996 and saw her video YWMFM and suddenly I was hooked for life. Now almost 6 years have passed through and I'm still a huge fan... Even the 2 and a half years I was away missing news about her... I'm lucky she did took some time as well... By now, I've been recovering my old Jewel stuff, gattering new stuff and getting back on my fan attitude once again.
Comments:
I'm glad to be part of it... I'm glad she keep up inspiring us all over the years. I believe she act with the heart. I mean that like most of us, she needs to be inspired.

Let us inspire her with our support...

JEWEL FOREVER!!!
This page has been viewed 490 times since updated Tuesday, October 02, 2001.
---
---