Rare angel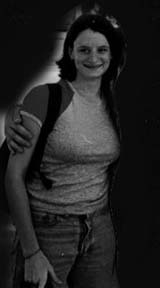 Abigail Greif
israel




IRC Nick AbbyAngel

I was born on Tuesday, October 6, 1981 which makes me a 37 year old Libra.
I am a female with Multi-Colored hair and Brown eyes.


I joined the EDA mailing list in December, 1997
---
My Jewel Story:
A person that was my friend at the time was really into her... I talked him into lending me the Jewelstock tapes. I was hooked :)After that I got POY, later on Spirit, and lots and lots of angelfood!
Comments:
Jewel has an amazing voice, and a very strong personality. I don't like idolizations, but I think in her case a little exception may be alright :)
This page has been viewed 621 times since updated Thursday, January 18, 2001.
---
---