Jessica Winn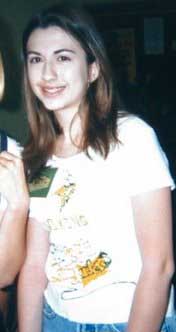 Jessica Winn
Clarksville, TN, USA




IRC Nick TitanicJW

I was born on Monday, November 16, 1981 which makes me a 37 year old Scorpio.
I am a female with Brown hair and Brown eyes.


I joined the EDA mailing list in July, 1997
---
My Jewel Story:
I first heard "Who Will Save Your Soul" on the radio in 1996, but I didn't think it was all that special. When "You Were Meant For Me" came out, I fell in love with it and went out and bought Pieces of You, which instantly became my favorite album.
Comments:
Jewel is a beautiful person, both inside and out. She is extraordinary!
This page has been viewed 683 times since updated Thursday, January 18, 2001.
---
---