Airhead Angel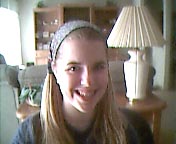 Carolyn Lake
Sicklerville / NJ / USA





I was born on Saturday, June 29, 1985 which makes me a 33 year old Cancer.
I am a female with Blonde hair and Blue eyes.


I joined the EDA mailing list in April, 1998
---
My Jewel Story:
I origanlly heard Jewel the radio, but the EDAs really made me really love Jewel! She has inspired my life so much in so many ways. When I get angry or sad, or even happy or excited, I write a song about it instead of taking it out on someone else. I am learning how to play the guitar, even though I already broke a string. *sheepish grin* She has helped me get over my fear of singing in public. She has inspired me to go after my dreams- a singer/songwriter/actress.
Comments:
Once you subscribe to the EDA list, you'll never be able to leave, cause it'll take a part with you.
This page has been viewed 2116 times since updated Thursday, January 18, 2001.
---
---