rainne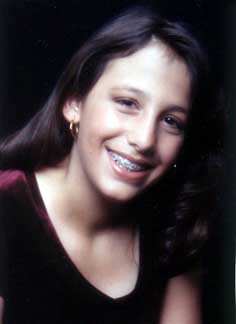 Lauren Varner
Denver, Colorado, USA




IRC Nick rainne

I was born on Wednesday, May 29, 1985 which makes me a 33 year old Gemini.
I am a female with Red hair and Brown eyes.


I joined the EDA mailing list in January, 1999
---
My Jewel Story:
I remember when I first saw the video for "Who Will Save Your Soul" on MTV, I thought that the song was pretty cool and the lyrics really sounded like the kind of things I write. I asked my mom to buy the CD for me, and immediately fell in love with almost every song, especially the lyrics, which, to me, are very wise and honest. When the new CD came out, I was one of the first to get it, and I've listened to it an average of twice a day ever since. Recently, I also purchased "A Night Without Armor" which I've been hooked on reading in Algebra and Spanish :) One of my biggest dreams is to see Jewel live and hear her sing "Deep Water" or "Innocence Maintained," my two favorites of her songs. I've also looked though lots of her poetry that I didn't see in AKWA and I also LOVE all of that. Every day, Jewel becomes more and more of an idol to me, because she is so full of talent and rare insight that seems to understand the world in a way no one else does.
Comments:
"Innocence Maintained" is my Bible. :) Jewel is one of those people that one feels like they know personally while never knowing them at all to me.
This page has been viewed 689 times since updated Thursday, January 18, 2001.
---
---