BUZZY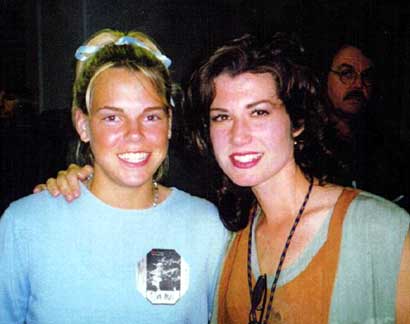 CINDY BUSSJAEGER
Kansas



IRC Nick Buzzy EDA

I was born on Monday, November 24, 1980 which makes me a 38 year old Sagittarius.
I am a female with Blonde hair and Blue eyes.


---
My Jewel Story:

EDAS! Great news! This is my disappointing and excitng story about Jewel!


My name is Cindy. I met Jewel kind of... Actually just bumped into her. Litterally!
She bumped into me. Well, it all began in March. I didn't know she was in town doing her "RIDE WITH THE DEVIL" deal. As you can see , I live in Shawnee Mission Kansas. I was already a true EDA when this happened ( which makes the story even better!) I was visiting my friend, Megan, who works there behind the juice bar. I had my back turned and was talking to Megan about a party that night. It was about 8:30P.M. when some woman knocked into me . I turned around to see who was clumsy! When I first saw her, I was like "OH MY GOD!" She said to me," Oh , I'm very sorry." "That's okay," I replied back! I was thinking "JEWEL APOLIGIZED TO ME ! WAIT TIL' I TELL ALL THE EDAS!!!!" I was in shock when she approached the juice bar and ordered a carrot/apple drink. I was trying to tell Megan ,who was fixing her drink, who it was! Megan ignored me and gave Jewel her change. I saw Jewel's nose and bad teeth ( not that bad in public! T.V. makes them stand out more) I was just staring Jewel down out of amazement. Megan said," What were you trying to say?" "I said shaking," THAT was JEWEL! "
Megan laughed and said,"Why would Jewel be here in boring Shawnee Mission Kansas on a FRiday night in running shoes and tights with greasy Hair?"
She had convinced me that it wasn't her just a look alike of JEwel. Had me not believing that...I would of ran up to her a gave her a hug and talk guitar! She was still in the store shopping. Did I mention this store was a Health Food Store called "WILDOATS" and to me only serves organic substances for gerbils?
Okay, I wake up in the morning and turn my radio on and the disc jockey says,
"Hey, we have had some Jewel sightings! Jewel is in town filming a movie!"
I called the radio station FREAKING out! I told them that I saw her. THough they didn't out me on the air! I was so mad at myself for not talking /introducing myself to her! Oh it made me so mad! Now that's my Jewel story and heres a picture of Me and Amy Grant ( sorry , it's the only picture I have of myself on file)--Amy's great too
And that's another story!
Buzzy Eda
Cindy
This page has been viewed 670 times since updated Thursday, January 18, 2001.
---
---