angel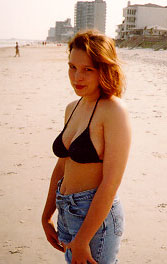 Angel W.
tennessee




I was born on Saturday, May 08, 1976 which makes me Taurus.
I am a female with Brown hair and Brown eyes.


---
My Jewel Story:
first heard her two years ago
Comments:
she is one of the greates artists/poets on this earth....and a beautiful person to go along with it all favorite song is You Were meant for me...
I guess the reason I love her so much is because she reminds me of myself..the way I feel about myself and the way I think
This page has been viewed 1958 times since updated Thursday, January 18, 2001.
---
---