Lar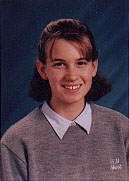 Laura
Aldan, Pennsylvania, USA




I was born on Friday, September 02, 1983 which makes me a 35 year old Virgo.
I am a female with Brown hair and Brown eyes.


---
My Jewel Story:
Well I first heard the "Who Will Save Your Soul" song on the radio during the summer of..95 I think it was. I enjoyed the song, but didn't know anything about the artist. That Christmas, I got the cd from my sister. Now I haven't stopped listening to it since!!
Comments:
Jewel is my inspiration...and she deifnitely deserves to have all the success in the world. I totally admire her. More power to her!!!
This page has been viewed 928 times since updated Thursday, January 18, 2001.
---
---