Gonzo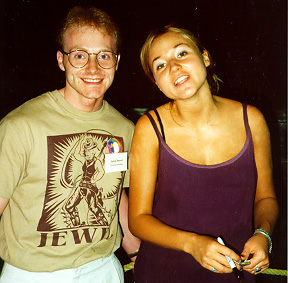 Aaron Matthew Suever
Coldwater, MI (well, Ann Arbor now




I am a female.


I joined the EDA mailing list in February, 1996 and I attended

'96!

---
My Jewel Story:
Saw her video late one night of, I think, August '95. Had to
run out out and buy the CD as soon as possible. I was okay then
until I saw my first show in Feb. '96 (for free!) Then I became
one of those crazy people called fans and hopped on the Internet
to find this place.
Comments:
Hey, I finally got my picture back from Jewelstock. I obviously
am very happy to be standing next to Miss Kilcher. And I know
it looks like I'm goosin' her, but I wasn't, I swear. I don't
know what my hand is doing back there. Didn't feel comfortable
putting it around her, but didn't know what else to do with it
either :)
This page has been viewed 958 times since updated Thursday, January 18, 2001.
---
---