Regina Sy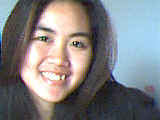 Regina Sy
Toronto, ON, Canada



IRC Nick Toxic Blaze

I was born on Saturday, November 07, 1981 which makes me a 37 year old Scorpio.
I am a female with Brown hair and Hazel eyes.


I joined the EDA mailing list in December, 1997
---
My Jewel Story:
I heard WWSYS on the radio and fell in love with her music. She writes great songs. Tells great stories. And has an amazing voice. Her voice makes me want to sing along to every song she sings. No other artist has that affect on me.
She has also helped me think about the simpler things in life. And she has helped me relax.
Comments:
I myself love to sing, I also would like to be a freind to everyone -- I mean everyone -- and she gives me hope. That one day, maybe -- just maybe -- I can do what I love to do most AND make a difference in other people's lives.
This page has been viewed 640 times since updated Thursday, January 18, 2001.
---
---