Zooberries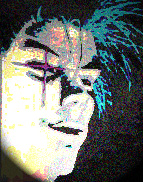 Juan Luna
Texas





I am a female.


I joined the EDA mailing list in May, 1996
---
My Jewel Story:
A lovely girl in Kansas sent me a Summer Mix Tape with "Who Will Save Your Soul" and "Daddy". My interest was peaked. With my witts i was able to get cd for sale price at BlockBuster Music way back last year when they didn't even know they sold her cd.
Comments:
I'm a music junky. I love getting e-mail so send me some for no reason or for any reason. My favorite Jewel songs are "Carnivore", "Foolish Games" and "Painters" [today, anyway]. Oh yeah, and if yer reading This, you should listen to Fiona Apple.
This page has been viewed 633 times since updated Thursday, January 18, 2001.
---
---
http://www.ticketsnow2.com/showban2.asp?id=740&img=banrock.gif