Greg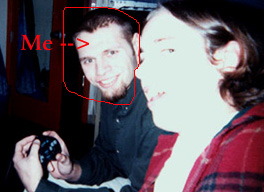 Greg Willms
Columbus, OH





I was born on Friday, July 16, 1976 which makes me Cancer.
I am a male with Brown hair and Green eyes.


I joined the EDA mailing list in May, 1996 and I attended

'96!

---
My Jewel Story:
Well... one of my friends at school (bowling green), is an absolute
music guru. He was the kind of guy who always had the CD's
before the artists became popular. I think it was November of last
year when we were playing sega in his room and he stopped and
said, "Oh wait, you ought to hear this CD." He got up, went to the
CD player, and a few seconds later, I heard a voice that I would from
that point on worship. Seeing as how I was a college kid, I had no
money to get my own copy, until I came home for Christmas and hit
my parents up for some $. I bought the CD the second day I was back, and it has rarely left my CD player since.
Comments:
Thanks to all the EDA's. You're a wonderful group of people. Never
in my life have I been to a gathering with as many people as there
were at JS, and not seen even one scuffle or some type of disagree-
ment. Everyone got along so well, and I think that speaks volumes.
Not just about us, but also about the type of people Jewel really touches.
This page has been viewed 987 times since updated Friday, February 02, 2001.
---
---