Dmon . . . aka the flyby angel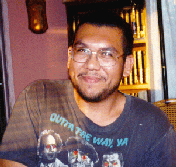 Daniel Moreno
Los Angeles, CA USA





I was born on Tuesday, September 20, 1977 which makes me Virgo.
I am a male with Black hair and Brown eyes.


I joined the EDA mailing list in July, 1997
---
My Jewel Story:
A friend of mine from AOL told me about Jewel one day and asked if I
had heard her and I hadnt . . . so I heard YWMFM on the radio and liked
it and decided I wanted more and got the CD and now I leave it in the
CD player all day and play it till I go to sleep . . .
This page has been viewed 882 times since updated Tuesday, April 10, 2001.
---
---