Rafa2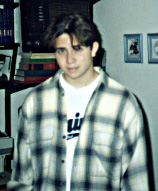 Rafael Galiņanes
San Juan /Puerto Rico



IRC Nick Rafa2

I was born on Friday, May 28, 1982 which makes me a 36 year old Gemini.
I am a male with Brown hair and Brown eyes.


I joined the EDA mailing list in February, 1996
---
My Jewel Story:
It was a cold Sunday afternoon... nothing was moving , I was alone in my room when suddenly the lights went out . The radio to which I was listening stopped , but then suddenly this voice comes out of the speakers . The voice said " You've been chosen as the Costarican EDA , if you wish to embark on this mission you will have to see VH-1's duets with Melissa Etheridge" . So I did and saw my Jewel , then I bought the album and joined the list.
Comments:
Jewel - je t'aime , et j'aime le cafe aussie. Jewel y el cafe son las dos cosas mas buenas del mundo !! Ohh Jewel , how I love thee!!
This page has been viewed 629 times since updated Thursday, January 18, 2001.
---
---