SuPeRdEfOrMeD aNgEl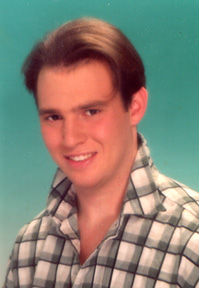 Jared Jacobus
Franklin Lakes, NJ




I was born on Tuesday, June 01, 1976 which makes me Gemini.
I am a male with Brown hair and Brown eyes.


I joined the EDA mailing list in July, 1996 and I attended

'96!

---
My Jewel Story:
An old college roommare used to play her in our room. I kind of likedher so I went with him to a concert. She sang Nikos and I became aJewelfan. Yesterday August 22, 1996 was my eleventh Jewel concert.
Comments:
Jewel makes it so rewarding to be her fan. I've never seen as artistthat deserved to live her/his dream more then Jewel.
This page has been viewed 1053 times since updated Thursday, January 18, 2001.
---
---