Selena Martin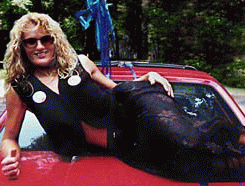 Selena
PA




I am a female.


I joined the EDA mailing list in May, 1996 and I attended

'96!

---
My Jewel Story:
"Who Will Save Your Soul" had a catchy sound and when I saw Jewel
on tv singing "Race Car Driver", I knew I had to buy her cd. I
really didn't expect to like more than one or two songs.
When I popped the cd in, I was housecleaning. I had to stop my
cleaning, sit down and give this music my full attention. My first
reaction was surprise. This woman is a storyteller. She tells stories
with her music. I was hooked.
So I got online and found her tour dates. That same day I bought
tickets to see her. The rest is history.
This page has been viewed 1091 times since updated Thursday, January 18, 2001.
---
---