pete "That Guy With the Guitar"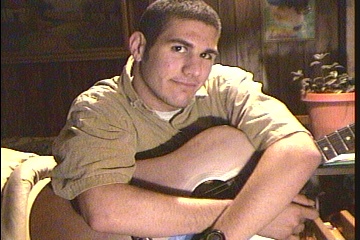 Peter Brucato III
Milltown, NJ US of A




I was born on Wednesday, March 02, 1977 which makes me Pisces.
I am a male with Brown hair and Brown eyes.


I joined the EDA mailing list in June, 1997
---
My Jewel Story:
My Ex-Girlfriend bought me "Peices of You" on it's first day of release because, quote, "it looked cute"
I have been addicted ever since.

Comments:
In a music world filled with greed and "sell outs" it's nice to hear true music.
Jewel remains on the truest songwirters i have ever heard. Her music is Pure and inspirational.
This page has been viewed 497 times since updated Tuesday, January 23, 2001.
---
---