Fab CA Gal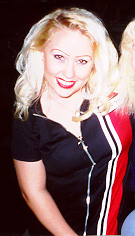 Mandy Diane Dokes
San Diego (Ocean Beach) California...USA




I was born on Thursday, May 22, 1975 which makes me Gemini.
I am a female with Blonde hair and Blue eyes.


---
My Jewel Story:
Used to watch her at Java Joes in Ocean Beach...also, my friend, Dave, used to date her.
Comments:
Not really...you can always me anything. Always want more, always demand more.
This page has been viewed 796 times since updated Thursday, January 18, 2001.
---
---