Crying Angel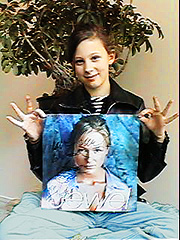 Shana Keith
Chicago, IL, USA




I was born on Friday, April 26, 1985 which makes me a 33 year old Taurus.
I am a female with Multi-Colored hair and Brown eyes.


I joined the EDA mailing list in April, 1997
---
My Jewel Story:
My cousin, Kris (Zero Gravity), had just gotten Jewel's CD (PoY) and wanted me to hear her. From the moment I heard it, I fell in love. After that I got the CD for myself and didn't stop playing it, especially "I'm Sensitive". I've been to two Jewel concerts. The first was at the Metro here in Chicago in '96. The last was at the Chicago Theater in March of '97. Thats how I found out about her.
Comments:
To me, Jewel's the most inspirational person on Earth. I like her because she's kind-hearted and speaks the truth!
This page has been viewed 949 times since updated Thursday, January 18, 2001.
---
---