Jenne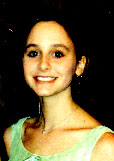 Jennifer Hinds
Columbus, Ohio USA


I was born on Thursday, November 19, 1981 which makes me a 37 year old Scorpio.
I am a female with Red hair and Brown eyes.


---
My Jewel Story:
Jewel is so cool! I found out about her when I heard her song "Who will
save your soul" the week it came out.
Comments:
My friend got the CD and I borrowed the thing
for two months until I got one of my own. I play the guitar, and now I can
play tracks 1,2,3,7,& 11. People say I'm obssessed, but I'm not! She's just
my favorite artist of all time. JEWEL ROCKS!!!!!!!!!!!!!!!!!!!!!!!!!!

This page has been viewed 697 times since updated Thursday, January 18, 2001.
---
---