Phlyp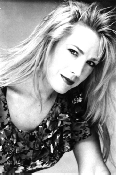 Lynne Schreiber-Cameron
Brookhaven PA USA




I was born on Tuesday, January 25, 1966 which makes me Aquarius.
I am a female with Blonde hair and Green eyes.


I joined the EDA mailing list in January, 1997
---
My Jewel Story:
My friend Matt Davies has always been a fan of Jewel. He played some
of her songs for me. She's incredible. Her voice is so beautiful, I
got chills. I went and bought her album. It's the most played CD I own.
I'm glad they don't wear out.

Comments:
The EDA mailing list is awesome. I moved to Media in Oct. I don't know
any one in the area except from the night club I work at. I feel at
home with everyone. It's so nice to be accepted, unconditionally. The
world is turning into an aweful place, the EDA's have restored my
faith in humanity. I BELIEVE ANGELS! Can we teach the world to love
each other?
This page has been viewed 517 times since updated Tuesday, January 23, 2001.
---
---