Susan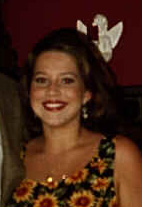 Susan Jones
Tuscaloosa, AL, USA



IRC Nick aopi

I was born on Saturday, September 16, 1978 which makes me Virgo.
I am a female with Brown hair and Blue eyes.


---
My Jewel Story:
radio
Comments:
Jewel touches that spiritual spot that we often forget is a part of us.
This page has been viewed 588 times since updated Thursday, January 18, 2001.
---
---