JEWELFAN22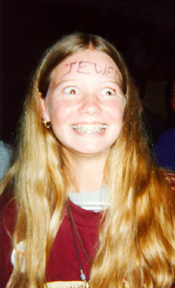 Liz Clark
Toledo, Ohio




I was born on Sunday, February 15, 1981 which makes me a 37 year old Aquarius.
I am a female with Blonde hair and Blue eyes.


I joined the EDA mailing list in January, 1996 and I attended

'96!

---
My Jewel Story:
One night in June of '95 I had VH1 Crossroads on and the video came
on for WWSYS. I didn't like it at first but they showed it a lot so it
grew on me. I began taping her every time she was on tv and bought the
CD. I absolutely fell in love with it and as soon as I got online I
made a query for Jewel Kilcher. I found out about the list and was a
lurker till about March.
Comments:
Jewel is the sweetest person. JewelStock was the best experience of my
life and I have everyone from the list to thank plus my 6' tall sister
Shelly! One of the best Jewel experiences was talking to her on stage
both nights!!!!!!!! Meeting her has been the apex of my life!! Also, Thank you to all of the EDA's who attended LizStock! I look forward to seeing you at upcoming concerts! o:-)
This page has been viewed 846 times since updated Thursday, January 18, 2001.
---
---