LisAngel/Wednesday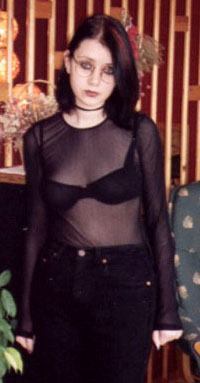 Lisa Golmen
Kristiansund, Norway



IRC Nick LisAngel

I was born on Friday, March 02, 1979 which makes me a 39 year old Pisces.
I am a female with Black hair and Multi-Colored eyes.


I joined the EDA mailing list in February, 1997
---
My Jewel Story:
I first heard Jewel on MTV, her video for "Who will save your soul".
I thought she had a beautiful voice and I liked the lyrics...
I joined the EDA`s list in February of 1997, and a friend bought me POY for my birthday the following month. Now I just can`t *wait* for a new album..
Comments:
Jewel is coming to Oslo *again* this October and *again* I can`t be there.. Someone up there really, truly hates me..Oh well, I have my angelfood and I *finally* got to see the Unplugged-show, so.. "that`s alright, that`s okay.."
This page has been viewed 1015 times since updated Thursday, January 18, 2001.
---
---