Fuzzy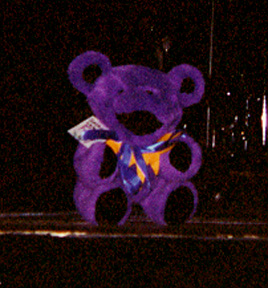 (Stud)Fuzzy Purple Bear
Philippines originally, currently Blacks





I am a male.


I joined the EDA mailing list in May, 1996 and I attended

'96!

---
My Jewel Story:
wEll my hanDler, Robb, he reaLly enjoys her music and i coUldn't help but likE her also

Comments:
I have purple fur, yellow Kermit the frog collar, a blue ribbon around my neck, and a name tag with my name that also says Rachels (heart)'s Fuzzy
JEWEL KISSED ME!!!!!!!!!!!!!
This page has been viewed 667 times since updated Thursday, January 18, 2001.
---
---