Good Ol' Boy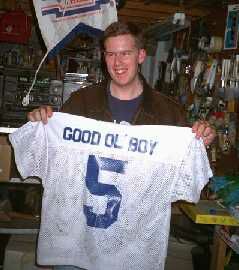 Matt Rhone
Allenwood, PA





I was born on Sunday, January 30, 1977 which makes me Aquarius.
I am a male with Brown hair and Green eyes.


I joined the EDA mailing list in January, 1997
---
My Jewel Story:
I heard about Jewel while flipping around looking for something good on the radio. First saw WWSYS video while in the electronocs department at Wal-Mart. Was I ever impressed.
Comments:
I had a chance to see Jewel at the HFStival in Washington with a friend in the area, but I could not attend. Wouldn't have gotten to see much of Jewel anyway thanks to the infamous frisbee incident.I just got tickets to for the 9:30 club March 10. I'll be driving about 3.5-4 hours for this, but it's worth it.
This page has been viewed 957 times since updated Friday, February 02, 2001.
---
---