Ashe Mayfair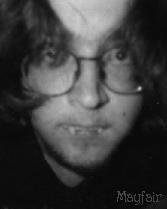 Ashley Mayfair
the river




IRC Nick Edhel

I was born on Thursday, April 20, 1978 which makes me Aries.
I am a male with Brown hair and Hazel eyes.


I joined the EDA mailing list in November, 1996
---
My Jewel Story:
I was living with a friend at the time. We had just fried up some
burgers (to qote Cobain "Yes I eat cow, I am not proud") and we went
into the living room to eat (we used the tabel but once in all the
time I lived there :]). We had MTV going (always had some music
channel going) and they played Who Will Save Your Soul (remeber the
good old days when MTV played Jewel ALL THE TIME?). I was kinda like
"Wow! She's cute and she can really sing." So over the procecss of
the next few days I learned all of the words to that song. Time
passed and then one day I was sitting in my room (I had by this time
moved out of my friends house cuse I had no money to keep living there)
and I am watching MTV. I look to see who the video they're playing
is by (as I always do if I don't already know the video). Sure enough
it was the new Jewel song (You Where Ment For Me). So I sat back to
watch it. Lets just say that I fell in love with that song. I found
it very sad and could relate well to it. Soon after I took serveral
CD's into the loca music store and sold them so I could get Peices of You
(and just an extra note: I got the Tracy Bonham CD that day too :]).


Comments:
Just for the record... I can't speel and I make a lot of typos :].
Oh, and you could have noticed... but I talk alot ;].
This page has been viewed 1507 times since updated Thursday, January 18, 2001.
---
---