MAXMOUZE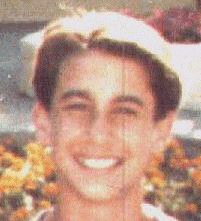 Mark Oxman
Bakersfield, California




IRC Nick MAXMOUZE

I was born on Friday, October 23, 1981 which makes me a 37 year old Libra.
I am a male with Brown hair and Hazel eyes.


I joined the EDA mailing list in December, 1996
---
My Jewel Story:
I was driving to Magic Mountain with one of my Internet friends and his mom was playing a variety of music. Suddenly, "Who Will Save Your Soul" filled the van and I was amazed at how much I liked the song. I commented on how it seemed familiar (I had heard it on the Top 40 Countdown, since my stupid radio station doesn't play Jewel itself) and asked for the artist. I was told it was by Jewel and the single CD was still avaiable. When I got home, I found a bunch of them under "JEWEL" and bought the single CD. After playing that over and over, I read the lyrics on a Jewel page and was amazed at how moving they were. When one of my selections from a CD club was unavailable, I ordered "Pieces of You" instead, even though I only knew two songs on it (the ones on the "Who Will Save Your Soul" single). When I got it, I played the whole album and instantly fell in love with it. And, I've been following the Internet stuff for quite sometime. Thirza finally explained how I got on the mailing list.
Comments:
Now that I've been on the list for half a year, I have heard more and more of Jewel's music and realized what an awesome person she is. I've had a very tough life, but through the darkest of days, I can always play a Jewel tape or CD and cheer myself up. Jewel is, indeed, an angel.
This page has been viewed 1013 times since updated Sunday, February 04, 2001.
---
---