Jimmy Yoo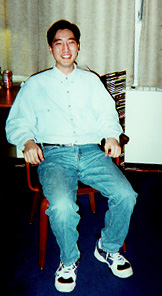 Jimmy Yoo
Urbana or Morton Grove, IL





I am a male with Black hair and Brown eyes.


---
My Jewel Story:
I first saw WWSYS on VH1 and fell in love with the song and with Jewel.When I saw POY in a used CD store, I had a chance to listen to it inthe store. I loved all of the lyrics, all of the music, and all of the poems that were in the liner notes. Needless to say, I bought the CD. Since then I've only managed to find one bootleg and one promo CD,but I'm hoping to get my hands on more.
Comments:
I finally saw Jewel in concert in Chicago on March 20 (Thanks to Natalie Torres.) It's an experience that I'll never forget.
This page has been viewed 581 times since updated Saturday, January 20, 2001.
---
---