Scott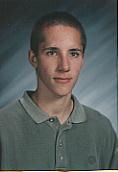 Scott Broughton
Park Rapids, Minnesota





I am a female.


I joined the EDA mailing list in September, 1996
---
My Jewel Story:
A friend on my mailing list posted the lyrics to Pieces of You this summer. They really struck me, and I went out and bought the CD. I've been hooked ever since.
Comments:
I heard Jewel yodel for the first time last night. The JewelStock tapes are great!
This page has been viewed 596 times since updated Thursday, February 01, 2001.
---
---